Story of my 1993 Bridgestone XO-4
Part Diary, Part Technical Manual, Part Tips & Tricks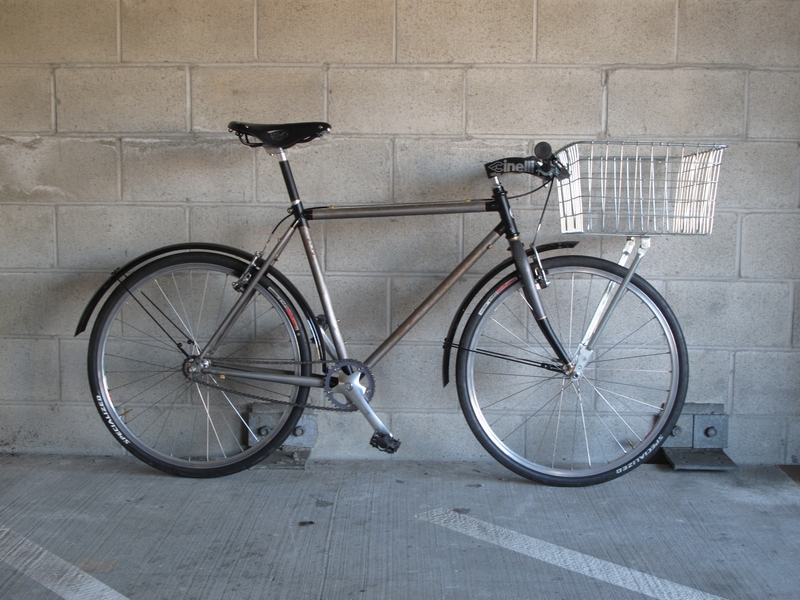 After purchasing my Bridgestone XO-1, I was on a Bridgestone kick and I had a buddy who was trying to sell his XO-4 on craigslist for many months. The bike was in pretty miserable shape and most of the original parts have been swapped out for ratty components. The headset was totally loose, the real wheel bearings were totally loose, the brakes had mismatched cantilever arms that barely worked, and the original fork was replaced with some cheap K-Mart suspension fork. So I told my buddy that if he couldn't sell it, I'll give him $60 for it. A week later, the bike was delivered to my house! I bought the bike on May 23, 2007 and quickly disassembled the bike. I took inventory of the usable parts and recycled the rest. After stripping the paint off of the frame, I realized that I didn't really know what to do with it, so there it sat in my garage for seven months. I've been thinking about how to paint the frame for a long time. I had two ideas:

1. Letters that would rust
2. Utilize my Cinelli Alter stem, one of the most beautiful objects made...

So the color palette was set by the stem, matte black. I then purchased some letter stickers and spelled ABERRANCE on the frame. After painting some small gold accents, I clearcoated the entire frame. Upon drying, I peeled off the letter stickers, leaving letters of exposed steel. With time, the steel should rust to reveal the lettering. Utilizing my time off during the holiday break, I worked on the bike and completed the project on December 29, 2007.
11/8/2008 - I had picked up an old set of Campagnolo ATB cranks a while back and thought it would go well with my Campagnolo rims. All of my bottom brackets are JIS taper, while Campy requires an ISO taper, so I bought a Miche bottom bracket and put everything on. Looks pretty sharp.
7/27/2011 - Instead of an office bike, I'm going to test this as a mini-commuter bike. So the goal was to make it as easy to transport as possible. This means removing the fenders for easy securing the my car bike rack. Also put on lighter alloy MKS platform pedals. Finally, since the mini-commute is flat, I increased the gearing significantly for more speed.
9/22/2012 - Looking at my previous log, the bike remained an office bike with no commuting going on. But with the increasingly bad traffic, expensive parking, and significant fuel costs, I'm going to give bike commuting another serious shot. I took off the threadless stem adapter and just installed a quill stem, removed the fenders, and put on a new better looking saddle. The bike never rode particularly well with a single speed chain tensioner on it, so I changed the gearing to 46x20, which allowed me to run the chain straight with good tension.
11/4/2013 - The bike has been faithfully waiting in my office garage, ready when I am to ride. A few weeks ago, I rode the bike to a project meeting close to the Caltrain station. Upon my return, the seat, seatpost, and seatpost bolt was missing - the first time I've dealt with theft in SF. So I rode the bike back to the office standing up. After ordering a 26.2mm seatpost, I realized that the frame really needed a 26.4mm, which explains the slight seatpost slipping over the years. So I finally got the right post, put in a generic metric bolt, and the unused pink seat I got from the Vitus 992, so now the bike is ready to ride again.
8/11/2016 - I've been riding this bike very frequently in SF, going from my office to various meetings and project sites. During a ride on Tuesday, I put on the brakes and heard a clunk then lost my front brake. At first I thought the brake cable pinch bolt came loose, but after fiddling with it for a couple minutes, I realized the V-brake noodle had broken. I happen to have a spare noodle, so I brought the bike home and fixed it up. This is probably the first time where something on my bike actually failed for use, not counting the occassional flat tire.
1/27/2018 - The brakes pads were completely worn, so I used that opportunity to install a new pair of V-brakes.
The following is the summary of the components, using as much of the original parts as possible:
Frame: 1993 Bridgestone XO-4, 52cm. Tange Double butted Cro-moly with 130mm spacing. Original dark red paint stripped and clearcoated with matte black and gold accents. Serial Number: M2GD08008.
Fork: Specialized 1" threaded. Original purple paint stripped and clearcoated with matte black and gold accents. I originally installed a fork from a 1988 Kestrel MX-Z, which was the original Kestrel monocoque mountain bike with old school grey fleck paint. It was 1" threaded Cro-moly with lugged Tange dropouts. This was a really high quality fork, but the fork crown O.D. was 26.0mm instead of the standard 26.5mm, so there was quite a bit of play for the fork crown race. I cut a small strip of aluminum for a soda can and used it as a shim, this worked ok, but you could still feel some movement, especially when I applied the front brake. So after riding it like this for a few months, I got kind of annoyed with it, so I dug out an old purple Specialized fork I had sitting around in the garage and repainted it. The fork fits great, so I'm all set.
Rims: Campagnolo Mirox, 6082 Alloy - T6, Polished aluminum. This was a really cool wheelset I got off of craigslist for cheap. This is early 90s stuff, when Campy made mountain bike components. I'm guessing this wheelset is from 1993, as that is the only year the production of the rims and hubs overlapped. The sidewalls are unmachined, like the Araya rims on my XO-1 - just the way Grant Peterson likes 'em. The rims are perfectly true and the hubs roll super smooth.
Front Hub: Shimano Deore XT, HB-M730, 32 spokes.
Rear Hub: Shimano Deore XT, FH-M732, 32 spokes, 7spd.
Tires: Specialized Fatboy, 26x1.25
Cranks: Campagnolo Centaur, 170mm and 110/74 BCD.
Chainring: Campagnolo 46T, 110 BCD
Cassette: 20T cog with aluminum spacers over a standard Shimano cassette.
Bottom Bracket: Miche Track, 110mm, ISO taper.
Headset: Summit, black 1" threaded.
Chain: SRAM PC-850 3/32" 8spd.
Stem: Kalloy Uno 1" threaded, 120mm reach with 25.4mm clamp, black.
Handlebar: Profile Ultra FR riser mountain bars. Double-butted aluminum with black anodized finish.
Grips: Oury, black.
Brakes: Shimano Acera BR-M422 V-brakes, black.
Brake Levers: Forte Team MTB levers, black.
Pedal: Platform pedals, black nylon
Seatpost: Kalloy 7000, 26.4mm diameter, 300mm length, black.
Saddle: Velo, pink.

The bike currently weighs 21lbs 7oz as shown. The frame weighs 4lbs 9oz.

The following are OE parts that I am currently not using:
Cranks: Suntour XCE, 50-40-28, 170mm and 110/74 BCD.
Derailers: Shimano Altus A10.
Shifters: Shimano Deore DX, top-mount.
Stem: Hsin Lung HS.
Brake Levers: Dia-Compe SS-4 (currently on the Peugeot).
Chain: Shimano Hyperglide CN-HG50.
Bottom Bracket: Tioga BB-301 with 123mm spindle, standard 1.370"l x 24TPI English thread.
Chainring: Suntour 50x40x28, in pretty bad shape.
Other parts not using:
Rack: TransIt, aluminum, black with TransIt Metro Trunk Bag.
Chainrings: Campagnolo 36-24T, 110/74 BCD.
Chainring: Sakae Ringyo (SR), 34T, 110 BCD, hard anodized.
Stem: Cinelli Alter, 1" with 140mm reach, black. I've owned this stem for a while and its the main inspiration to build this bike. I installed a 1" threaded to threadless adaptor and it works fine.
Fenders: Planet Bike, full fenders, black.