1992 Bridgestone XO-1
Part Diary, Part Technical Manual, Part Tips & Tricks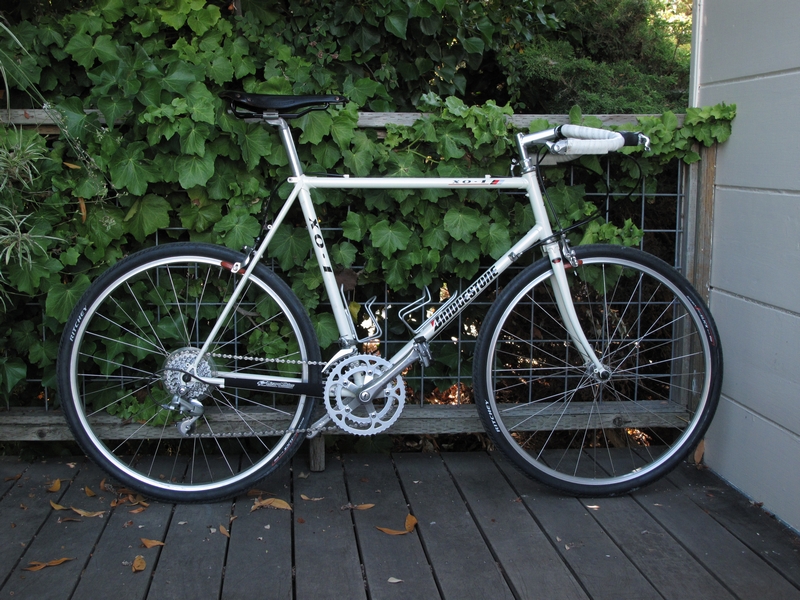 Never paid attention to Bridgestone bicycles. I was aware they existed, but they never interested me. Early in 2007, I was reading about bicycles online and came across an article on the XO-1. After a little bit of research, I was very intrigued, by the cult status of the bike and the philosophy of Grant Petersen. So I started looking for one online, hopefully a 52mm or 55mm frame in Pearl Tusk (1992) or Construction Pumpkin (1993). So I search for a bit without much luck, so I try something that I've never done before, I posted a WTB ad on craigslist. I posted the ad on March 28, 2007 with no response, BUT on April 1, 2007, a person in San Francisco posted an ad for a 1992 XO-1, 55mm, all original, in Pearl Tusk! So I drive over the following night and brought my baby home. The XO-1 has turned out to be an excellent bike. The steel frame feels fantastic and climbs very well, especially considering its weight. I probably ride this bike more than any other bike.
4/9/2011 - After four years, I sold the bike on eBay to a person in Montana. I'll probably miss the bike, but then again I always do.
The following is the summary of the components, using as much of the original parts as possible:
Frame: 1992 Bridgestone XO-1, Ishiwata triple butted CrMo tubing; 019E, 022E, 024E. Pearl Tusk, 55cm. Serial Number: J121895. 4.2 lbs. Limited production of 1,000.
Fork: Bridgestone XO-1, CroMo with Atlantis cast crown. Clearance for up to 1.6" tires. 1.5 lbs.
Wheelset: Araya RM-17 32H, silver with Shimano RX100 hubs and 15ga Wheelsmith spokes.
Tires: Ritchey Tom Slick Comp, 26 x 1.4.
Cranks: Sugino GP, 175mm and 110/74bcd.
Chainring: Sugino 50x36.
Cassette: Shimano Deore DX 7spd, 13-28.
Front Derailer: Shimano 105.
Rear Derailer: Shimano 105.
Bottom Bracket: Sealed, bolt type.
Headset: Shimano Ultegra 600 with 10mm spacer.
Chain: Shimano Hyperglide.
Stem: Ritchey Force, CrMo 1" quill, 100mm, 90 degree road stem, TIG welded. Made by Nitto to Ritchey's specifications (I noticed the unusually beautiful finish, typical of Nitto).
Handlebar: Nitto Moustache 26.0 road clamp, heat-treated 2014 T6 aluminum.
Shifter: Shimano Ultegra bar-end.
Brakes: Dia-Compe BRS 300 sidepulls and lever with Kool Stop salmon compound pads.
Pedal: Forte Campus. I also have some OE MKS Sylvan Track pedals, with toeclips and leather straps.
Seatpost: Sakae CLE 100, 220mm, 27.0mm.
Saddle: Selle An-Atomica Titanico LD. I got the Selle An-Atomica in March 2007 and haven't put too many miles on it yet, but I've noticed a great improvement in comfort since the very first ride. The saddle also looks period correct and very BOBish. Its perfect for those 50-60 mile fundraiser rides that I enjoy. At this point in my life, I'm less concerned about counting grams and much more concerned about my comfort and health.

| | | | | | | | |
| --- | --- | --- | --- | --- | --- | --- | --- |
| Ratio | 13 | 15 | 17 | 19 | 21 | 24 | 28 |
| 50 | 6.9 | 6.0 | 5.3 | 4.7 | 4.3 | 3.8 | 3.2 |
| 36 | 5.0 | 4.3 | 3.8 | 3.4 | 3.1 | 2.7 | 2.3 |
The bike currently weighs 25lbs 11oz as shown.