1992 Gary Fisher Hoo-Koo-E-Koo
Part Diary, Part Technical Manual, Part Tips & Tricks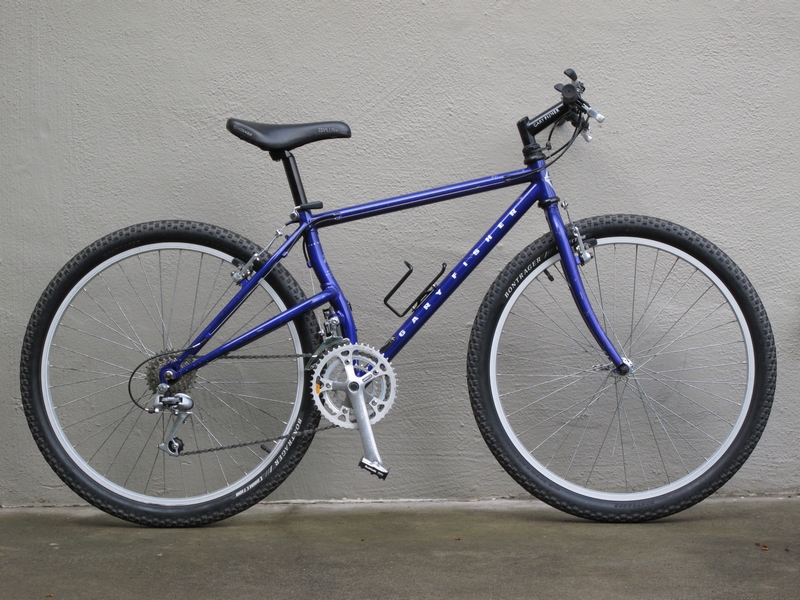 Since my newfound MTB kick, I've been interested in the elevated chain stay bikes influenced by Richard Cunningham. I saw an ad for this older Gary Fisher, not only did it have elevated chain stays, it also had a curved seat tube like my KHS Aero Turbo. The size was too small, but the price was right, so I figure I would buy it and fix it up for my dad, my wife, or just clean it up and sell it. Besides, I kinda have a soft spot for old Gary Fishers since my first mountain bike that I ever bought was a 1997 Gary Fisher Joshua X0.
3/18/2012 - I showed this frameset to my dad via Skype and he said he liked the unique design. The bike he has now is a totally piece of cheap full suspension, disc brake crap; its full of features he doesn't need, its heavy, inefficient, and it's too large for him too. So I told him I would build up this Hoo-Koo-E-Koo for him. After working late nights over the past few days, I finally completed this rebuild. This was probably one of the most difficult builds for me because of all the quirky outdated technology this bikes has. I was not able to remove the pressed-in bottom bracket and I left the 1-1/8" threaded headset alone because I didn't have a 40mm spanner wrench and didn't plan on needing one in the near future. I cleaned and waxed the frameset, repacked the hubs, respaced the rear wheel (totally bizarre, don't ask), a lot of degreasing and scrubbing, new brake and shifter cables and housing, new tires, new pedals, new handlebars, new grips, new shifters, new seatpost, and a new chain. The completed bike looks ok, but considering all the work I put into it, it doesn't look that much different. Aesthetically, it's a bit disappointing; but its good to know that everything is dialed in and put together properly with a lot of care. I finished this just in time since my parents show up on the 20th.
3/25/2012 - After spending almost a week with us, my parents brought this bike back to Southern California. I hope my dad enjoys riding it in good health.
11/4/2014 - My parents moved to a smaller place and my dad wasn't riding much, so they no longer had use for the bike. Instead of bringing it back home, I just had my cousin Albert sell it in LA. He sold it to one of the members of his cycling club.
Here are the specs:
Frame: 1992 Gary Fisher Hoo Koo E Koo, 14.5", Fisher Design Evolution Tange double butted tubing, 135mm spacing. Serial Number: FS91115551. Midnight Blue. This has a unique bottom bracket shell that is unthreaded with pressed in cartridge bearings, held in by circlips.
Fork: Gary Fisher, 1-1/8" threaded. Fisher Evolution True Temper Steerer, Cro-Mo Blades, Investment Cast dropouts. Midnight Blue.
Wheels: Generic hubs and aluminum rims, 32H, silver
Tires: Bontrager Connection, 26" x 1.95", wire bead. From my Bridgestone MB-4, this gave me an excuse to buy new Ritchey tires for the MB-4.
Cassette: Falcon 7spd, 14-28T.
Cranks: Shimano Exage 500LX FC-M500, 46x36x24, 170mm, 110/74 BCD.
Bottom Bracket: Press fit cartridge bearings, square taper spindle.
Front Derailer: Shimano Deore DX FD-M651, special braze-on.
Rear Derailer: Shimano Exage 500LX RD-M500, 7spd.
Brake Lever: Shimano Deore DX BL-MT63.
Shifters: Shimano EM SL-MT50. I had bought these on eBay a few weeks ago and these suddenly came in really handy.
Headset: 1-1/8" Threaded, black.
Chain: KMC Z-50
Stem: Gary Fisher by Sameness, 30 degree rise, 1-1/8" threaded, 110mm, 25.4mm diameter.
Handlebar: Forte ATX, 25.4mm, 58cm wide, 6061-T6 aluminum, black.
Grips: Forte Comp MTB, black.
Brakes: Shimano Exage BR-M501.
Pedal: Forte ATB Comp, black.
Seatpost: Sunlite Classic, 28.6mm x 350mm, black.
Seatpin: Gary Fisher, quick-release.
Saddle: Bontrager Plus10, black. This was the original seat from my Joshua X0, this is all I have left of it.

| | | | | | | | |
| --- | --- | --- | --- | --- | --- | --- | --- |
| Ratio | 14 | 16 | 18 | 20 | 22 | 24 | 28 |
| 46 | 6.3 | 5.5 | 4.9 | 4.4 | 4.0 | 3.7 | 3.2 |
| 36 | 4.9 | 4.3 | 3.8 | 3.5 | 3.1 | 2.9 | 2.5 |
| 24 | 3.3 | 2.9 | 2.6 | 2.3 | 2.1 | 1.9 | 1.6 |
The bike originally weighed 28 lbs 15 oz. The bike currently weighs 27 lbs 11 oz as shown.

The following are OE parts that I am currently not using:
Shifters: Shimano Deore II SL-MT62. One of the shifters was bent up pretty bad so I decided not to use them.
Handlebar: Gary Fisher by Sameness ATB2683F, black. The handlebars were ok, but at the grip area, it tapers down extra small so standard grips would not fit snug over it.
Pedal: Generic alloy platform, black. They are totally trashed and bent up.
Seatpost: Proponent, 28.6mm x 250mm, silver.